Find your truth. Share your experience. Since 2005. 13 entities seen recently.
Community for enthusiasts, sensitives, historians, explorers, fans, photographers, researchers and anyone keen on the macabre.
The following content is reincarnated from a street racing site that unwittingly ignited intense interest in all things paranormal.
Grief & Black Aggie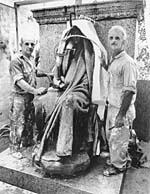 Little is as eerie as the baleful stare of graveyard statuary, which runs the beautiful-to-frightening gamut between angels and even the dead themselves.
Grief Rock Creek Cemetery, Rock Creek Park, Washington, DC
Grief is the nickname for the ominous memorial for Marian "Clover" Adams, wife of Henry Adams (president John Quincy Adams' grandson), who drank potassium in suicidal depression over her father's death, 1886.
Henry Adams commissioned Augustus St. Gaudens, a premier American artisan at the turn-of-the-century whose works included the figure of Diana (Madison Square Gardens) and monuments to American statesmen Lincoln and Sherman, to create a monument to replace Clover's simple headstone. It was placed over Clover's grave in Rock Creek Cemetery, Washington, DC.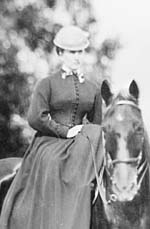 Henry Adams never spoke publicly about Clover's death, did not officially name the monument or authorize its inscription, had the monument hidden behind trees and shrubs, and refused to acknowledge its popular nickname which was perhaps dubbed by St. Gaudens himself, though some claim Mark Twain, who visited in 1906, coined "Grief."
Intrigue fueled interest, especially as Grief was so unnerving to regard.
Within a few months of gravesite placement, someone made a partial casting of Grief, an incredible piracy consummated by sculptor Eduard L.A. Pausch.
This stolen copy became "Black Aggie," Grief's illegitimate twin.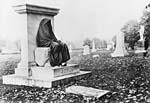 Black Aggie Druid Ridge Cemetery, Pikesville, MD, near Baltimore
War hero General Felix Agnus, publisher of Baltimore's "American" newspaper, whose friend writer H.L. Mencken chided, "had so much lead in him that he rattled when he walked," purchased the Pausch copy of the sculpture in 1905 during construction of his family plot in Pikeville's Druid Ridge Cemetery, near Baltimore.
Widow St. Gauden complained of the piracy, and Agnus quickly responded as the innocent victim of unscrupulous art dealers. Agnus sued and won a claim of over $4500, but he refused to give up the statue.
First buried at the site was the General's mother, brought over from France. Wife Annie died in 1922, and Agnus died three years later at the age of 86.
Though innocent in daylight, yet illegitimate and perhaps inspired by those who regard with terror in the dark, the Agnus Monument soon became known as Black Aggie.
Distorted legends grew with eerie tales told about this spooky piece of graveyard art. Reportedly, grass died in her shadow. Miscarriages, unexplained deaths, and the 1962 newspaper story about an odd incident in which one of Black Aggie's arms, having been dismembered overnight, was found in a sheet metal worker's car along with a saw; explanation: Black Aggie cut off her own arm in a fit of grief and gave it to him.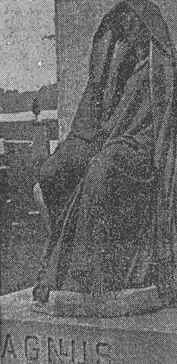 The curious gathered almost nightly with the attendant lurid strangeness keeping their fancy.
Although Pikesville was fairly remote at the time, the site was frequented by hundreds or perhaps thousands of people over several decades. Vandalism included names scrawled onto Black Aggie, her granite base and retaining wall.
Despite thorny thickets, groundskeepers could not hold the curious at bay. A fence currently surrounds the grave of the Agnus family today, but previously the cemetery was wide open. On 18 Mar, 1967, ceaseless nocturnal celebrity caused the Agnus family to donate Black Aggie to the Smithsonian Institution for display.
This presented an enigma for later fans attempting to locate Black Aggie. The Smithosonian claimed they did not have her, and, despite some recalling her brief display in the National Gallery, she does not appear in their records. The Smithsonian had apparently passed on Black Aggie to the National Museum of American Art, where she was stored without display. Having been long fascinated with the legend, Baltimore area writer Shara Terjung tracked down Black Aggie in 1996.
Black Aggie now sits at the Federal Courts building in Washington, in the rear courtyard of the Dolly Madison house, while her firstborn twin Grief is located at the Adams family gravesite in Rock Creek Cemetery, Rock Creek Park, Washington, DC.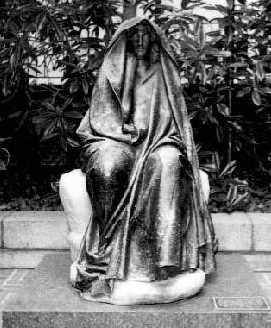 Black Aggie at the Dolly Madison House today
SOURCES:
HAUNTED HOUSES by Richard Winer and Nancy Osborn (1979)
Baltimore Sun (Newspaper)
Baltimore News American (Newspaper)
Weekly Retriever (Newspaper)
IN THE STATUE'S GRIP by David Buscher (unpublished)
Shara Terjung
Tom Stansbury
Troy Taylor